A scalable pressure ventilator for the treatment of COVID-19 patients globally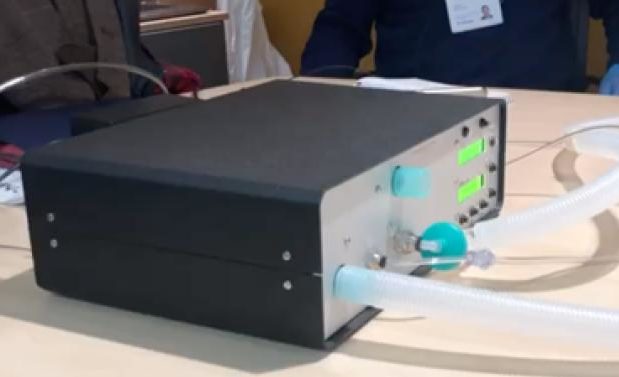 Pressure ventilator for covid-19 patients. Pressure Control ventilation can offer a better match for the conditions of a makeshift ward.
Following the progression of the COVID-19, the number of infected patients globally grows by almost 10,000 every day. Since 20% of them are hospitalized and 5% need admission in an ICU, the demand for ventilators is extremely high. 
No healthcare system is prepared for such high demand, so the rapid manufacturing of ventilators for hospitals everywhere is rather urgent. Current pressure ventilator models are complex and costly, and the number of manufacturers is limited. Therefore, it is not possible to supply the needed amount in the short-term.
Multiple initiatives have been kicked off globally as an attempt to solve this challenge. Their common goal is, within their reach, to come up with a complete or partial ventilation solution that may help. 
First steps: Selecting one ventilation system
Ennomotive decided to launch a challenge for its more than 20,000 engineers to effectively find the best possible solution regarding time, efficiency, availability, and cost.
101 participants joined the challenge and after only 7 days, 45 solutions were submitted.  The participants themselves peer-reviewed and evaluated them
Finally, the selected solution in Round 1 proposes a ventilation system based on the classic ventilators from the past. Frede Jensen, the British engineers who submitted it, kept it simple by eliminating any dispensable and expensive component that made the design complex to operate.
Simpler Pressure Control ventilators of the past have delivered, and are still delivering, a valuable level of therapy, controlling the volume through blood pressure and oxygen saturation. 
Once the healthcare system is forced to turn warehouses into makeshift intensive care wards, as the images from Italy, each ward will have hundreds of patients, tightly organized, a rudimentary infrastructure, and healthcare staff with below-average respiratory care skills, and very tired/overworked.
This is not a realistic environment for an advanced skill and infrastructure-demanding ICU mechanical ventilator or a single limb homecare ventilator, which exhausts contaminants into the ambient environment. For this reason, we believe that Pressure Control ventilation can offer a better match for the conditions in the makeshift ward.
Description of the solution: Pressure ventilator
The selected ventilator was developed by Frede Jensen and is based on pressure control, similar to the ones used in the '90s. It has basic ventilation functions, more than enough to treat COVID-19 patients in the current situation. Its strengths are the following:
It is globally scalable since its components are available in the market. Besides, this solution is pretty unique and different from what everybody else is looking for in a ventilator.

Easy to use, especially important for underqualified clinical staff in countries with large numbers of patients and fewer resources and infrastructure.
Frede Jensen was the engineer who submitted the proposal to ennomotive a few days ago, and we have been working together ever since.
According to M. Jensen, it may be hard to sell pressure ventilation in today's market since volume measurements were not used 25 years ago. However, patients were still ventilated effectively and in a much simpler way.
Ultimately, it is the pressure that fills up the lung, flow and volume are merely the results of pressure. When the clinician changes the prescribed volume, the ventilator, in fact, changes its pressure – until it matches the target volume in the set Ti time. Fundamentally, all ventilators are pressure controlled.
If a patient's lung tightens up and becomes rigid, which happens with all diseases (acute respiratory distress syndrome), then the blood gasses go down and ventilator adjustment is needed. Whether or not the clinician adjusts pressure or volume is irrelevant, the result is the same. 
It is understandable that clinicians feel more comfortable checking the volume delivered to the patient since it is what they are taught when using modern advanced ventilators. Volume is a visual indicator of ventilation happening, but it is in fact not an indicator of ventilation efficiency (CO2 elimination) or oxygenation. 
Clinical protocols say that patients need between 4ml/kg and 8ml/kg volume (i.e. between 300ml and 600ml for a 75kg person). This is a very wide range. Usually, no one looks at a patient and prescribes a final volume. In practice, the clinician will start with a mid-range pressure or volume and then measure the blood gasses, which tells them if they need to increase or decrease the pressure or volume. 
Ventilation is, therefore, an output-driven therapy. Blood CO2 level and O2 saturation are the outcomes. Volume is irrelevant in this respect. Of course, no one would want the pressure to result in so much volume that it over-stretches the lung (volutrauma). But no one would want to achieve a volume at any pressure either (barotrauma).
When there is excess CO2 in the blood, it normally has little to do with volume, but it has much to do with the lower pressure. To improve CO2 elimination (the primary indicator of ventilation efficiency), the clinician will ignore the volume (unless set unreasonably low) and purely focus on the PEEP/EP pressure – even in modern volume control ventilation.
If we have to implement volume measurements, the pressure ventilator should be able to operate with or without the flow sensor. The sensors add cost per patient and could be difficult to obtain in some markets, although there are some alternative options for timely implementation. 
Next steps and how you can contribute
The ultimate goal of this initiative is to develop a globally scalable pressure ventilator that can be manufactured locally and delivered to hospitals. The prototyping team, formed by 4 engineers, are working on both the assembly and the software as fast as they can. Moreover, they have started a collaboration with Vithas Group and its engineering and medical team to start testing the prototypes soon. There are also some companies supporting the procurement of testing equipment. 
According to the AEMPS (Spanish Medical Association), the ventilator needs to comply with some European standards like UNE EN ISO 60601-2-12, EN ISO 80601-1, UNE EN 794-3, and MHRA (in the UK). Functional and safety tests are being performed in compliance with these standards.
At the same time, ennomotive has an open challenge where you can see sketches of the solution for people to integrate potential improvements and fine-tune the ventilator.
The next challenge is to find manufacturers all over the world that help us scale the solution locally in different regions. If you can contribute by sharing this project with other people that can make a contribution (manufacturers, engineers, medical staff...).
With this initiative, ennomotive aims not only to deliver one ventilator model in just one place but also to scale it globally. Although the development and approval of the ventilator may still take a few weeks, it is worth it to try and help other regions fighting the pandemic in the coming months. 
About the inventor
Frede Jensen studied electronics, mechatronics and thermo fluid dynamics at degree level, and naturally ended up in the field or medical life support ventilation. 
He has managed an advanced infant ventilator manufacturer, SLE Ltd in the UK, and has held roles in both R&D management and regulatory affairs. Infant intensive care largely revolves around pressure control ventilation, which is a procedure that is close to Frede's heart. In the late 1980s, as a young Army Medic, Frede did 10 weeks of work experience in the Intensive Care Unit at the Hôpital Larrey in Toulouse, France, where he monitored ventilator patients and saw first-hand the clinical procedures for pre
ssure control ventilation in adults. He has seen its evidence of producing good patient outcomes. Frede was a medical device design consultant over 7 years, supporting clients in a range of different fields.
---