The What and Why of Smart Grids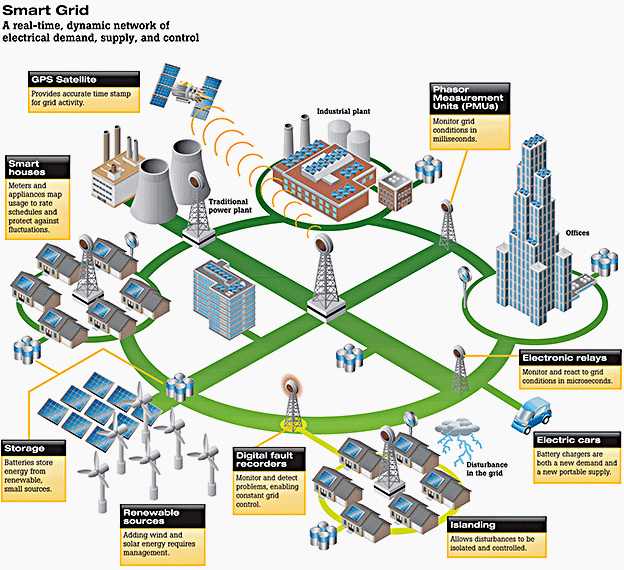 The evolution of our use of electricity: The What and Why of Smart Grids (in collaboration with Francisco Javier Muñoz)
Before talking of Smart Grids… Is there a grid in my life? Why should I care?
The same instant I have switched on my computer and poured myself a cup of warm coffee from my coffemaker I have already been 
engaged in an electrical grid
. 
My role, consumer endpoint
.  The 
energy
 I have used in my computer and my coffemaker has been 
generated outside my house
 since I have no generation means -
this is the case of over 99% consumers of electricity nowadays
.

In this most simple diagram there is just a link, the red arrow, by which a supplier sends me billable electrical power. As this is not a one to one relationship,
the grid is the set of connections on which the electricity bought by the clients is served from the generation plants
.
Classic Grids: from supplier to consumer
Traditionally, energy systems from power generation to homes are
one-directional and based on more predictable, controllable and centralised power generation
, looking something like this:

Diagram of an electric power system; transmission system is in blue
In this model the energy flows always in the same direction through each step. In the graphic there is no representation for electricity storage since there has not been efficient technology to be considered in this matter.
This gives a radically stiff system: the kWh I use has to be generated and transported over the grid in real time.
Smart Grids: handling distributed generation and distributed storage in an open market
Quite a big deal of factors have made this traditional model of network evolve to a less one-directional grid:
The Smart Grid is the backbone of all these factors. The key points in the diagram below are:
There are some elements that are no longer one-directional: an electric vehicle (EV) can be taking energy from the grid –charge process- or releasing energy –car parked, plugged in and charged-.
Power can be generated in a distribution branch (e.g. great wind conditions in Spain's La Mancha Eolic Parks) and transmitted to zones with demand at the same instant (e.g. Italy's Torino area).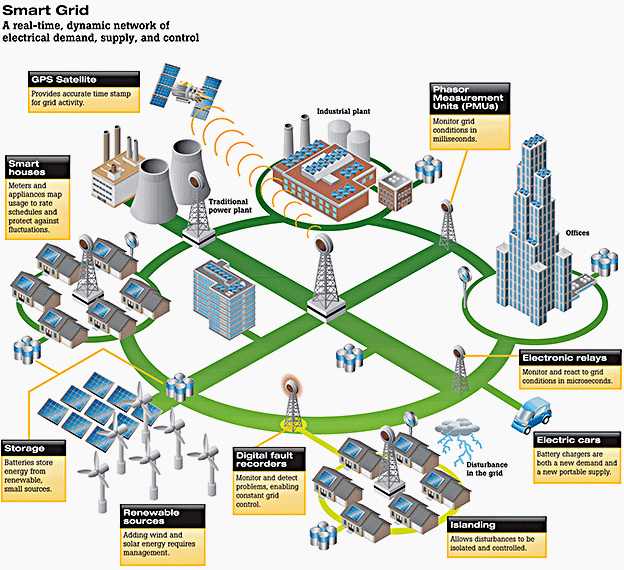 SMART GRID - A real-time dynamic network of electrical demand, supply and control (photo credit utilityproducts.com)
The
Smart Grid's job is routing the energy from the different types of sources
(power plants, distributed generation sources, storage, international trade)
to consumer nodes
(residential, transportation –electric cars, buses and trains-, office buildings, industry…)
under the premises of stability, security, sustainability and quality of service.
We love innovation around energy! Are you working in Energy Management? What was your best technology project?
Join our Engineering community!
[i]
European Commission. Competition and you
[ii]
European Commision. Renewable energy
[iii]
Endesa Educa. Generación distribuída (in Spanish)
---