6 Types of Masks and their Effectiveness against COVID-19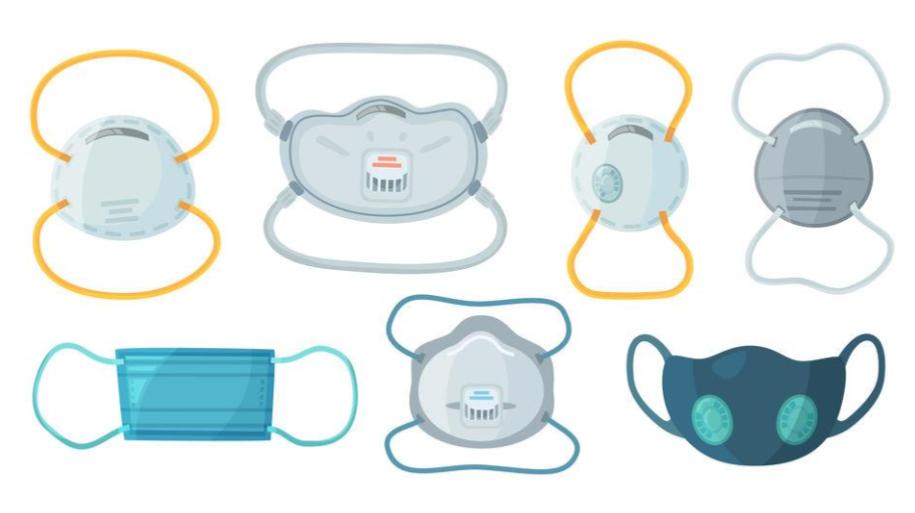 Wearing masks could have the biggest impact on slowing down the spread of COVID-19, coupled with other precautions such as social distancing. Now that some governments require the use of face masks in public, they should mandate reusable masks and not single-use masks. This will preserve single-use mask supplies for front-line healthcare workers, and reduce the environmental impact associated with the disposal of millions of tonnes of contaminated plastic mask waste in the household waste stream. Indeed, the use of reusable masks by the general population would significantly reduce plastic waste and the climate change impact of this policy measure. 
Let's go over some of the most recommended types of masks to understand the pros and cons of using them. 
Most of the information in this article comes from a study carried out by the University of Central London. Read the full research
here
.
Surgical respiratory masks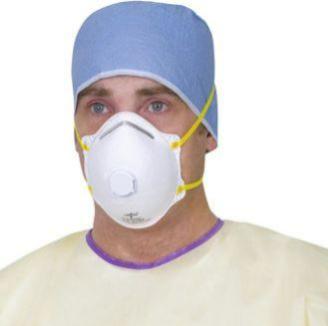 IMAGE: FFP2
Surgical masks are a very good option to protect people from COVID-19 since their filtering effectiveness is extremely high. This type of masks comply with the EN149 EU standard and, based on their filtering performance, are classified as FFP1 (N95 in US and KN95 in China), FFP2 (N99 in US and KN99 in China), and FFP3 (N100 in US and KN100 in China). For example, N95 means that the mask provides the intended effectiveness of filtering 95% of particles with a mass median diameter of 0.3 micrometers. 
However, surgical masks are disposable and their general use will create a negative impact on the environment.
The reason is that the material of the masks (nonwoven fabric) cannot be disinfected at 60ºC for 30 minutes since it negatively affects the mask fitting.
Reusable respiratory masks
IMAGE: Respro
Another option available to the general public is the reusable respiratory mask, which provides protection against air pollutants, including airborne pathogens. These reusable masks are multi-layered and often contain a high-efficiency particulate air (HEPA) filter. Some manufacturers of reusable masks (such as Cambridge Mask and Respro®) claim that their products are as effective against COVID-19 as standard single-use surgical masks, as long as the filters are replaced as required. 
Reusable cloth masks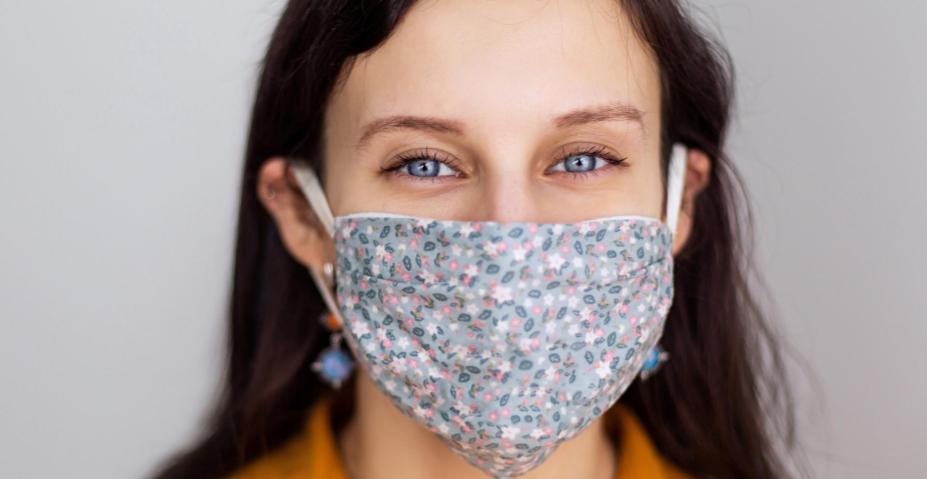 IMAGE: LVHN
Washable, reusable cloth masks are a potential way forward, with the advantage that these could be made at home. Reusable cloth masks are not as effective in the prevention of infection as N95 respirators and surgical masks. This is because the pores in woven materials are larger than 0.3 microns and cannot, therefore, filter out all of the droplets containing viruses such as SARS-CoV-2, in which the viral particle size is 0.125 microns. 
There is research to suggest that simple homemade cloth masks are able to limit the spread of droplets from the wearer and possibly slow down transmission (Rengasamy et al., 2010) but not stop it fully.
Environmental impact of disposable surgical masks
The University of Central London carried out a life cycle assessment (LCA) in order to understand the environmental impact of different UK-wide face mask-adoption scenarios.
According to the study, if every person in the UK used one disposable surgical mask each day for a year, this would create over 128,000 tonnes of unrecyclable plastic waste (66,000 tonnes of contaminated waste and 57,000 tonnes of plastic packaging). If we roughly scale up these numbers globally, 100 times the amount of plastic can be expected, which will create a huge environmental challenge.
If single-use filters are used in addition to reusable masks, the amount of waste is 60% less than using single-use masks. There is an over 95% reduction in waste if only reusable masks are used.
On top of that, according to
The Washington Post
, there are also some common complaints linked to the use of the above-mentioned types of single-use and reusable face masks: It's harder to breathe with a mask on, glasses fog up, the nose gets itchy, the ears get pulled, the voice is muffled, among other things.
As a result, finding a COVID-19-effective and easy to breath reusable mask for the general public is fundamental. In this sense, ennomotive has recently launched an open innovation challenge to develop a new reusable face mask that protects from the COVID-19 and improves breathability. 
Participate in the challenge
6 Types of Masks that Help to protect against COVID-19
Here is a compilation of some face masks that have innovative features (materials, comfort, filtration, custom-made, comfortable, etc.) that may inspire you if you are interested in participating in the face mask challenge.
Guardian G-Volt Face Mask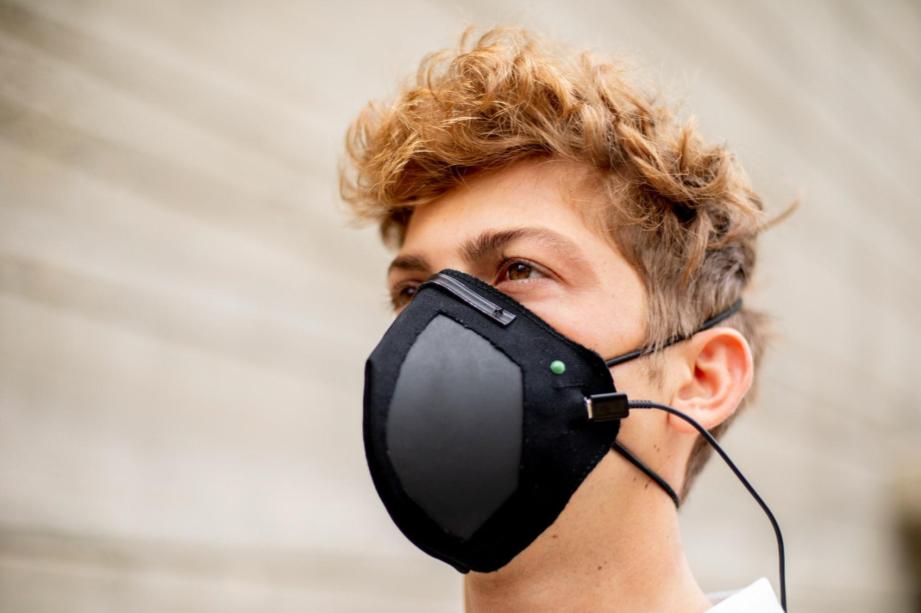 IMAGE: LIGC Applications
Designed by LIGC Applications, the Guardian G-Volt mask is fitted with a graphene filtration system that can be sterilized and safely re-used.
The
graphene filtration system
is 99 percent effective against particles over 0.3 micrometers and 80 percent effective against anything smaller (the size of the COVID-19 virus is 0.125 microns). This puts it a step above N95 masks, which have a 95 percent effectiveness against particles over 0.3 micrometers.
When you plug the mask into a portable charger via USB, a low-level electrical charge will pass through the Guardian G-Volt, repelling any particles trapped in the mask. Once you're back home, a docking system will allow you to easily sterilize the mask for reuse. 
Nuo 3D Mask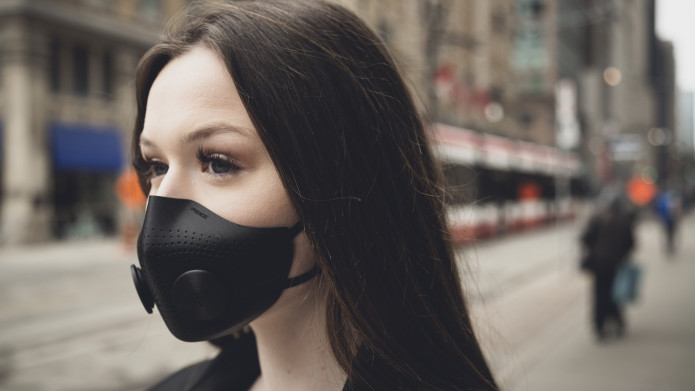 IMAGE: LuxMea Studio
LuxMea Studio specializes in AI-powered generative design, big data, 3D printing, and digital fabrication. With the now-common use of face masks, the company decided to offer people the option of having a custom,
tailor-made mask that contours to the exact shape of your face
.
The Nuo 3D Mask consists of two parts: a 3D printed shell and a filter (replaceable). The 3D shell is precision printed using industry-specific printers and high-grade polyamide.
The filter that's included with the mask is also a custom design made of N95 standard material, which can filter 95 percent of 0.3 micron particles. 
Get It Right (GIR) Reusable Silicone Face Mask
IMAGE: GIR
Due to current circumstances with the coronavirus, GIR, a kitchen accessories company decided to partially shift their production line to making
reusable silicone masks
.
What sets them apart is the fact that the masks are easy to breathe in, due to the perforations on the outside. They also offer protection, with a
filter to stop all the pollution
in the air and in your surroundings from penetrating the mask. Each mask kit comes with five extra filter replacements. Once you run out, you can purchase more filters from GIR or your preferred vendor.
The new H.F. Journey mask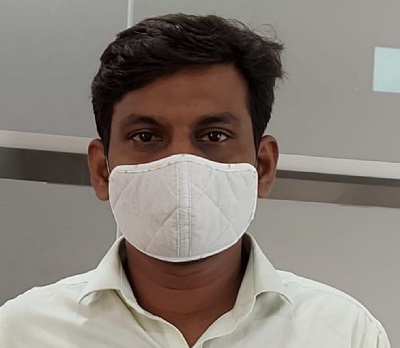 IMAGE: Cotton Grower
Arrow Brogues, Pvt. Ltd., a shoe manufacturer in Ranipet, India, is collaborating with the Nonwovens and Advanced Laboratory at Texas Tech University and Chennai-based WellGro United to develop filtering and fashionable face masks.
The new masks
, which use
nonwoven cotton as the core filter substrate
, are released under the brand name H.F. Journey. The design expertise of Arrow Brogues has been valuable in the development of H.F. Journey masks, and WellGro United supplies the core filter substrate for these types of masks.
MeoAir
IMAGE: MEOAir
MEO™ is an innovative face mask that merges a comfortable design with high-tech materials. 
The Helix™ Filter is key to the MEO mask's effectiveness. After many years of research, it utilizes the
protective qualities of wool
from sheep in Wanaka, New Zealand. This wool has been proven to outperform synthetic materials that can be used for face mask filters.
The Helix™ Filter Media is also the world's most breathable, allowing the wearer to receive a steady stream of purified air because it takes less energy to draw air through the filter than other types of masks. Its many advantages include a superior electrostatic performance for capturing particles and reduces noxious gases.
The Purple Face Mask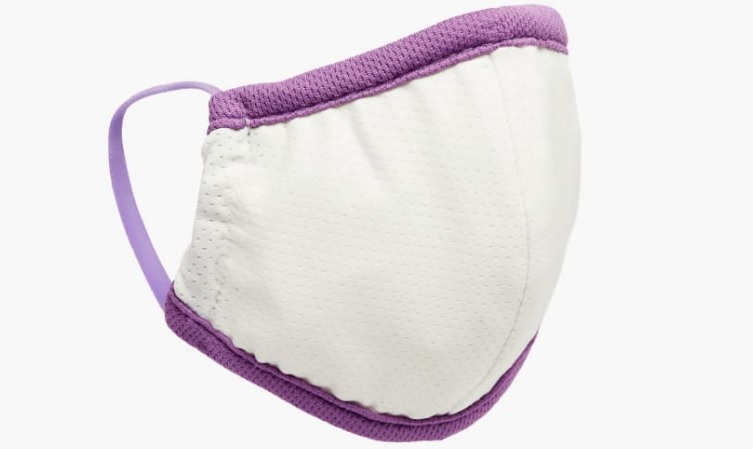 IMAGE: Purple
The Purple mask
is made from materials from pillows, which create a comfortable, breathable, reusable face mask. It is designed to be comfortable for hours at a time and follows the CDC's recommendations for personal use.
One of Purple's greatest advantages is its
ultra-comfortable Hyper-Elastic Polymer® ear bands
that are temperature-neutral and can stretch up to 400% their resting size without ever losing shape. Besides, these face masks are both functional and comfortable. For the inner and outer layers, they use the moisture-wicking Breeze Mesh from their pillows and a built-in 100% cotton filter that exceeds CDC recommendations.
Let us know about other types of masks efficient to protect from COVID-19 and 
explore what ennomotive has to offer
.
---