In August 2018, ennomotive launched a challenge to help Codelco Tech, the subsidiary of the first mining company in Chile and first world copper producer.
A new Copper Graphene (G/Cu) nanocomposite has been developed recently: the addition of 3% graphene to pure copper has proven to be a material that significantly improves the yield strength, tensile strength, and elastic modulus if compared to pure copper.
The goal of this challenge was to find ideas on potential and very specific applications in which the use of this new nanocomposite translates into a technical/economic improvement compared to the materials used to date.
For 6 weeks, 65 engineers from 14 countries accepted the challenge and submitted different solutions. After a thorough evaluation, Codelco Tech picked the solution that best met the evaluation criteria and awarded the winners, Julio Andrés Casal Ramos, from Venezuela, Fernanda Elena Monasterio, from Argentina y Vivek Nair, from Singapore.
We have contacted Julio to learn about his experience and the future of materials for mining. Here you can read the full interview.
Julio Andrés: Materials Science will help save the environment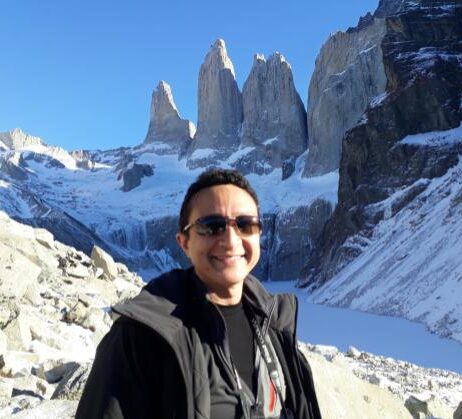 Can you introduce yourself briefly?
My name is Julio Andrés Casal Ramos, from Venezuela (Puerto Ordaz, Estado Bolívar). I'm a 30-year-old Materials engineer and M. Sc. in Mechanical Engineering both degrees from the Universidad Simón Bolívar in Venezuela.
My professional background has diverse experiences but mostly in technical areas. One of the most important for me is that time I worked in R&D for approximately 4 years in Venezuela (Universidad Simón Bolívar) and Sweden (Uppsala University) in areas such as utilization of hazardous industrial waste through its transformation with hydro-metallurgic techniques and the strength of packaging materials. 
In Chile, I had the opportunity to do previous work in logistics, although I have been working as Structural Calculist and Project Engineer for Nueva Ancor Tecmin S.A., a Chilean company global leader on manufacturing of electrolytic reduction cells made of polymer concrete under its patent Supertank®, which are crucial pieces of equipment for the production of non-ferrous metals through electro-refining and electrowinning processes. I have been also working in the area of industrial risks and consequences analyses for the storage of hazardous substances according to national regulations.
What projects have been crucial for your career?
The truth is that every project becomes a lesson and leaves a mark on your professional and personal life. However, I can highlight my participation in a project about the utilization of used domestic batteries. It was a national project that I could take on while I was a research assistant at the Universidad Simón Bolívar, in Venezuela.  I had the chance to participate in it since the early stages, and we could start a research lab almost from scratch.
Another project that I participated in from the beginning was one in the company I currently work for. I got to be part of the detail engineering, manufacturing engineering and assembly of large polymer concrete electrolytic sectional cell-tank for a copper electro-refining factory in Japan. This project implied constant communication with the client and facing a big technical issue since cell-tanks of this material and dimensions had never been manufactured. This helped me become involved from the beginning with the selection of the materials for manufacturing and the detail design of the cell-tanks and its structural behavior. 
What are the most significant advances made in the sector of materials for mining in the past few years?
The mining sector is very traditional, with extraction and processing activities that have been around for decades for most of the metals. In recent years, perhaps at the beginning of this century, there have been many steps forward in Materials Science, generally speaking, that include applications that involve the mining industry and metallurgy. 
One of the main problems that affect this industry is the corrosion because most processes involve acids or high temperatures, conditions that allow corrosion-oxidation in metals. Materials Science has always taken care (and still does) of the replacement of equipment for corrosion-resistant materials and the application of covers on top of metallic structures.
Generally, the mining and metallurgic industry is a big challenge for Materials Science, since their operations demand a high performance of consumable materials and the materials used to manufacture equipment. Phenomena such as abrasion, erosion, corrosion, oxidation, fatigue, thermo-fluence (creep) or others are a challenge to equipment and service suppliers, which should stay alert and cooperate with universities and research centers in order to come up with solutions that guarantee a good performance of the machinery and, therefore, of the processes they are part of. 
Nevertheless, a very important matter that has been the subject of research and industrial application in the past years that is also related to Materials Science is the environmental impact of mining operations. The current legislation has been updated after the obvious damage caused by these operations, so mining companies have to take into account new variables that present an important challenge from an engineering point of view.
In this sense, Materials Science, besides elaborating materials that meet new needs, it collaborates in the recovery of areas damaged by this kind of operations and in the treatment, remediation, and valorization of industrial waste.
Is it difficult to innovate in this sector? Why?
Yes, it is not exactly easy to innovate in this sector. From my point of view, this is due to the fact that these operations are decades old, which is why it is complicated to change people's minds when they have been doing the same task the same way for years. In my experience, this type of companies is more likely to take in alternative solutions when the problem has already caught up with them and they need an immediate solution. This makes innovation very difficult since it requires time and resources or, in other words, a long-term vision. 
However, from my point of view, some of these companies may become more eager to innovation in a few years due to a reduction in the high-grade ore-deposits, which requires a modification in the operations and activities to better utilization of the mine. Besides, the ever-evolving environmental legislation can also be a source for the mining and metallurgy industry to seek innovation. 
On the other hand, the electronics and automation sectors have been constantly innovating because productivity requirements pushed companies towards the automation of their operations, problem detection, identification and separation of minerals. 

Which are the most immediate innovations in the coming years in this field?
In my opinion, looking at the continuous evolution of the legislation, I think the most significative innovations in this field will go hand-in-hand with a reduction of the environmental impact and the treatment of sectors already damaged by mining operations. 
Furthermore, Materials Science is constantly evolving into what I consider to be the beginning of another age marked by materials development. The evolution of nanotechnology, the relatively recent appearance of materials like graphene and the carbon nanotubes are opening the door for new materials that will most likely be part of the mining industry in different operations. They will make room for further improvement since some operations are limited because of the currently available materials.