Maanasa Mendu: An Inspirational Engineer with a Sustainable Project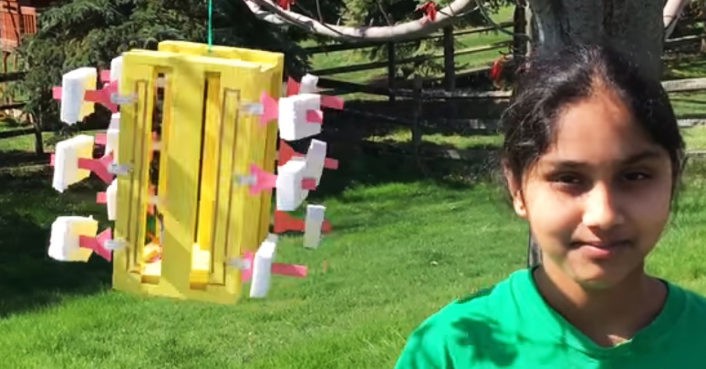 Meet Maanasa Mendu. She hopes her invention helps make wind power a globally applicable energy source. She created a device using piezoelectricity materials
Developing countries need a high level of energy production to continue growing and thrive in a sustainable manner. The main issue here is that energy production is costly, except for one form:
wind or solar renewable energy
. It is not easy to create an affordable mechanism to produce this kind of energy, but a recent Young Scientist Challenge finalist in the United States has found a
key solution
. 
Maanasa Mendu
, a 13-year-old American from Ohio, won this competition and hopes her invention helps make wind power a globally applicable energy source. She created a device utilizing
piezoelectricity materials
that are both eco-friendly and cost efficient. After learning that wind power only produces 4% of America's energy, Maanasa entered the
Young Scientist Challenge
to help turn her idea into a reality. Maanasa believes her invention has the capability to provide electricity to the world in an environmentally friendly way. She found inspiration during
her last trip to India
, where she witnessed how multiple families did not have access to electricity and water. Maanasa wanted to create something those people could use at an
affordable price
. She first came up with a piezoelectric wind-energy device that secured her a place as a finalist in this year's Young Scientist Challenge. Then she participated in a
mentorship program
over the summer, as did nine other challenge finalists, to come up with her winning design.
Kudos to #IndianAmerican whiz kid Maanasa Mendu, 13, who is America's Top #YoungScientist:https://t.co/91IJsSic3F#YoungScientistChallenge

— Geeta Goindi (@GeetGoindi) 21 de octubre de 2016
HARVEST
expands on the original design to include solar power. Her device utilizes "solar leaves" inspired by plants to gather vibration energy. HARVEST works via solar cells and piezoelectric material, or material generating electrical currents when exposed to vibration, so when it's rainy, windy, or sunny, the device can gather energy. HARVEST is affordable too:
it only costs about $5 to put the device together
. Did you find this story inspiring? Do you have a
sustainable solution for energy production
?
Join us to help leading companies go to the next level
---