Ingenia - Engineering your Future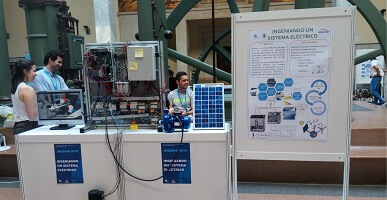 Last week we attended the closing gala of the subject INGENIA, part of the Industrial Engineering Masters at UPM ETSII (Madrid Polytechnic University).
This subject is only two years old and, in this event, the students were presenting their final engineering projects. Depending on their engineering branch they liked the most, they could choose among bioengineering, electronic, robotics, energy, product design and manufacturing and automation.
Ingenia´students
The aim of the subject and thus, INGENIA, is to satisfy social needs in a feasible and sustainable manner. In order to undertake these projects, students have been trained to develop intersectional skills, which are crucial in the professional life.
A project that really stood out was the step-in bindings for snowboarding. Are you a snowboarder? Aren´t you tired of strap-in and out of the board every time you take the ski lift?
Well…This method will allow you to get attached to the board quickly and easily, as opposed to the strap-in system. This was one of many electromechanical prototypes that one group designed and manufactured, using CDIO methodology.
[video width="720" height="480" mp4="https://s3.eu-central-1.amazonaws.com/wordpress-production-offloaded-ennomotive/wp-content/uploads/2016/07/video-movil.mp4"][/video]
The project we were most familiar with, was the Formula SAE, as we have launched a challenge to help them to improve their UPM13C 'characteristics that will compete in UPM racing in August, in Montmeló Barcelona.
This is how the Technical University of Madrid (UPM) encourage entrepreneurship among its master´s students. They apply the methodology "learning by doing" to give students a taste of real life engineering challenges.
Would you have liked to have more practical experience, like this one, during your studies? Do you think you can still learn by doing? If you think so, we have some
engineering challenges waiting for you!
Join us and experience with real engineering challenges!
---