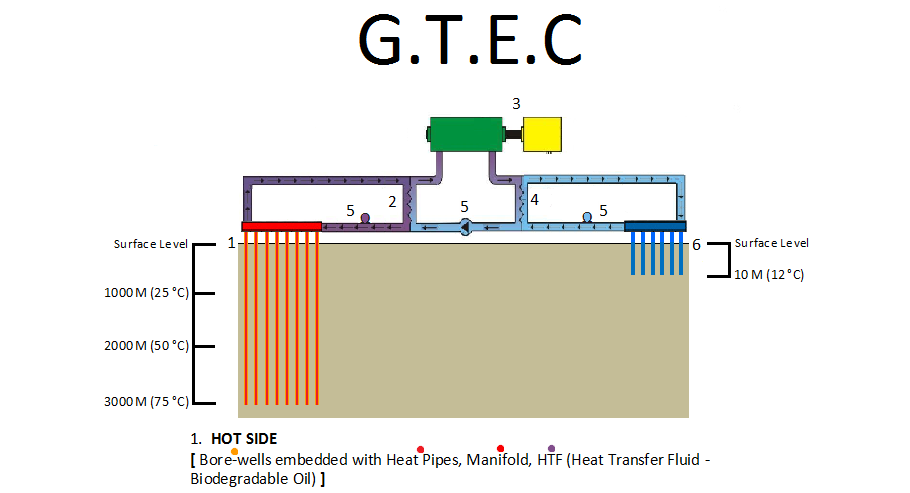 The Deeper you go into the Earth, the Hotter it gets. GTEC converts the temperature difference that occurs between Hot Deep Underground and Cool Shallow Ground, into Renewable Electricity with a Heat Engine.
Interested in:
Investors and Collaborators
Contact name:
Aviral Shorey
Team members:
Aviral Shorey
Differences:
GTEC is far better than traditional geothermal power and this takes an 'Out-of-the-Box' approach towards making geothermal available & accessible to all.
GTEC is limitless, pollution free, base-load renewable power, all year round, anywhere worldwide, from Earth's heat, that can help humanity transition from Fossil Fuel Economy to Green Electric Economy and combat the very real threat of Climate Change, before its too late for all of us.
Startup name:
Project Dig Deep
Additional information:
I am Looking for Investors, Collaborators (Engineering, Scientific & Energy Community) to gain contribution, visibility, and feedback for my project. Specially looking for a group of people who are concerned about Climate Change and are on the lookout for investing & working on Green Energy Projects, to put forth meaningful Solutions to collectively solve this alarming problem, affecting humanity and planet Earth as a whole!