Autonomous Robot Ferrovial Challenge (3.2K € in prizes)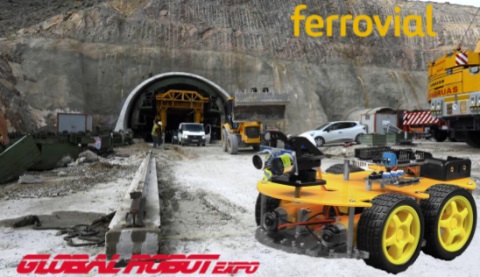 A small autonomous robot prototype is wanted, using robotic platforms like Arduino to make transportation autonomous in a work-simulated environment
Can you come up with a small autonomous robot prototype for construction sites? Take a look at this
ennomotive
challenge and win up to 3,200 EUR in prizes.
Major infrastructure works require the transportation of bulk materials in a
 continuously changing environment with a never-ending list of hurdles that make it a dangerous working space.
The transportation has been done so far with vehicles driven by people responsible for both their own safety and the rest of the workers.
Ferrovial is looking for
a small autonomous mobile robot prototype using e.g. commercial robotic platforms type Arduino
, and adding sensors, software, etc. to move around a work-simulated environment (small-scale):
Trips to several procurement and destination spots.
Change of conditions and obstacles during transportation.
Slopes and risk of fallings.
Fixed obstacles such as piles of sand or gravel accumulated prefabs, fallen materials or detached rocks.
Moving obstacles like other vehicles or people passing by.
See the challenge introductory video
here
!
All kinds of technologies can be used
, with sensors or cameras both on the very prototype or on a drone/mother vehicle leading the way. Furthermore, IOT can also be used in other vehicles, people or objects that facilitate the detection by communicating with the prototype.
The participation in the challenge can be either individual or in teams!
This is a 3-round competition:
1st Round - Before 22 Jan
Submit a brief written description
 of your solution along with a 
photo/video of your prototype
so that it can be evaluated. In addition, please send as well
a 15 second video of yourself
describing very briefly your project and introducing yourself (or your team).
Semifinals and Finals - 3-4 Feb
Semifinalists will
 join us at 
Global Robot Expo Madrid (Spain) by Feb 2. We have some budget to cover travel expenses (300 €/submission). Participants will get free tickets to come to Global Robot Expo.
There will be a few tests that the robots need to pass, like
going from point A to point B without bumping into any fixed or moving obstacle
. You can conduct final tests of your robot since Feb 2nd in the expo. Semifinals will be on 3rd of Feb and Finals on the 4th.
Amazing prizes
1st Prize: 2.000 €
2nd and 3rd finalists: 600 € each
+ Tickets to Global Robot Expo Madrid!
Join the challenge here
---